Navigating the Options on Salesforce for Nonprofits (Part 2)
Salesforce presents a large number of choices to your nonprofit. This may result in a larger, more complicated implementation effort than expected. So how you approach those choices can profoundly impact your chances for success.
This is Part 2 of a three-part series. See the introduction for links to all three parts.
It's all about making wise, informed choices
If you are considering using Salesforce in your organization, you might be surprised that selecting the platform is only the first choice among many. One of the most exciting but challenging things about Salesforce is that you may be selecting several Salesforce-based applications, along with several vendors, to meet your needs.
As you move forward with Salesforce, you'll need to answer some questions critical to your success. Among them:
Which apps will be required? For many organizations, the first app selection is about fundraising. For others, it is case management or program/project management. To further complicate things, additional third-party tools are often required for document creation, duplicate management, data imports, or data augmentation. The list can go on and on.
Will you need to customize the platform? Salesforce provides a tremendous opportunity for nonprofits to customize the platform to meet their specific needs. If you want or need to customize it, you also need to consider if you can afford the costs of development and maintenance.
Who will support your organization post-implementation? Unlike an organization buying its CRM services from a company like Blackbaud, support for your Salesforce implementation will likely be fragmented due to the various vendors/apps you will use. The Salesforce difference in approach allows more room for app developers, implementers, and non-profits to innovate—but requires that you have more robust internal support than might be required of a more traditional software application. (By "traditional," we mean software where the platform and the application are inseparable—by comparison to Salesforce, where the platform and the applications are acquired separately.)
For those organizations thoughtfully planning a Salesforce implementation, the number of decision points can at times feel overwhelming.
Case in point: the Salesforce fundraising options for nonprofits
As mentioned above, one early consideration for many nonprofits is how to meet fundraising needs. In the below diagram, Build illustrates some of the early decision points. This is not intended to be an all-encompassing diagram. We just want to give you some idea of the complexity in the landscape of potential decisions.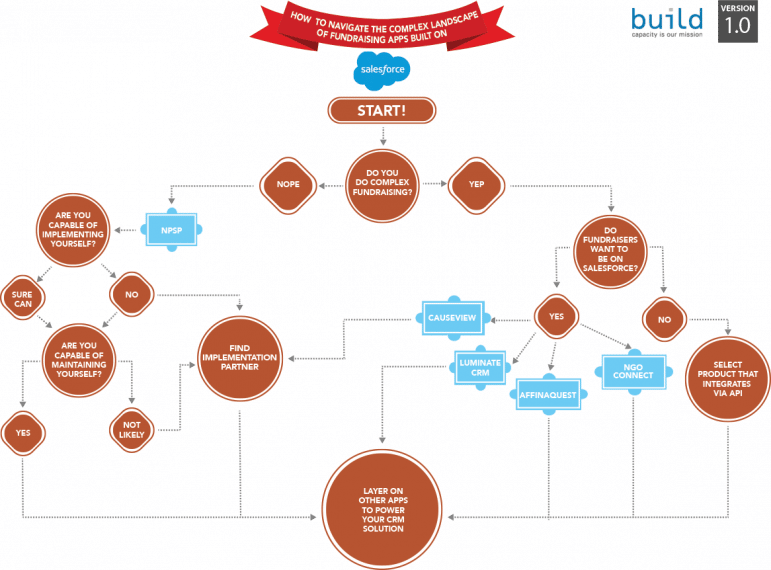 It's easy to see how quickly the decision points multiply and are interconnected. There can be powerful opportunities or enormous pitfalls based on how you approach those decisions.
From a pure fundraising perspective, many apps on the Salesforce platform lag behind Abila, Blackbaud, Softrek (ClearView aka PledgeMaker), and other traditional nonprofit fundraising systems. And, as we discussed in Part 1 of this series, attempts to promote NGO Connect and now the Nonprofit Success Pack (NPSP) as viable candidates have been mixed at best.
Large/sophisticated fundraising organizations—particularly those that rely on heavy direct marketing and high-volume gift entry/charitable revenue management—should proceed with extreme care. Many of the available nonprofit Salesforce apps for fundraising haven't yet consistently proven themselves at a high level.
With great power comes great responsibility
The number of options for configuring, customizing and integrating Salesforce is limitless. Strategic-minded and well-resourced nonprofits can leverage these options to build a system that will help move the organization forward.
However, if you don't have the right strategy and plan, you may end up designing a system with poor processes. Or you may end up with an over-customized, one-of-a-kind system that becomes incredibly difficult to support—putting you on a technological island.
Salesforce is powerful. It is also complex. That complexity only increases when you have so many vendors, apps, and implementers in the mix.
Which path is right for you?
In this blog series, we don't map out which path through the Salesforce landscape is best for all organizations. The truth is it will be different for each one.
However, be encouraged! It is totally possible to navigate this landscape well and take advantage of the many opportunities Salesforce offers. You just need to make sure you have the right mix of experience and expertise engaged at all points during the process.
And here's a final word of advice: it is important to keep a realistic view of the balance between bold promises and delivered results. We make this recommendation regarding all vendor products, not just Salesforce. Evaluate a platform and its apps based on its proven performance—what it has today versus what it claims it will have tomorrow.
Next up
In our third and final blog post of this series, we assess the future of Salesforce.org and its approach to the nonprofit and higher education market.