Does Your Organization Need a Better Technology Roadmap? (Video, Podcast, Transcript)
View this video directly on YouTube (and subscribe to our channel!)
Like podcasts? Find our full archive here or anywhere you listen to podcasts. Or ask your smart speaker.
Transcript below!
All nonprofit organizations stand to benefit from an improved technology environment. But does your organization's technology roadmap provide you with the directions you need to succeed with those new and improved technologies?
You may have gaps in leadership, operations, business process, and data management capacity that have prevented your organization from effectively selecting and implementing technologies to serve your entire organization and its mission.
Without addressing these gaps, your nonprofit is at a higher risk of technology system implementation failure.​
Learn how to address these gaps. Technology implementation can require significant change efforts, for all staff. Don't let your technology fail by not addressing systemic changes necessary for success!
In this webinar, Build Consulting expert Peter Mirus explains how to build a technology roadmap that will guide your organization to a successful future. 
Peter draws on years of experience consulting with nonprofits on technology projects to give you practical steps to implement quickly.
This webinar was presented Tuesday, February 25th, 2020.
Learn how your organization can create a technology roadmap that is right for you.
Transcription:
Peter Mirus:  Hello everyone and welcome to the Community IT and Build Consulting Webinar for February, 2020 titled "Does Your Organization Need a Better Technology Roadmap?"
Today I'll be introducing some key concepts to inform your technology strategy and roadmap focusing primarily on areas that often get overlooked, but if attended to properly, dramatically increase your chances of success in seeing a good return on your technology investments. This is a popular topic. We had over 100 registrants for this webinar with 35 currently attending live and 10 questions submitted, which I will try to address in the course of the webinar, and I hope to leave a few minutes at the end for any additional questions. You'll also have access to my personal contact information for any follow ups you would like to send my way. And I'll be putting that on screen right before the Q&A section at the end of the webinar.
So, just a few housekeeping notes before we get started. First of all, you can ask questions using the available questions feature in GoToWebinar. I may not be able to see those as we're currently moving through the presentation, but I will be able to see them at the end. Avoid multitasking, you may just miss the best part of the presentation and links to the recordings, video, and MP3 will be shared via e-mail after the webinar.
(1:35) And just a quick note to let you know that there will be another Community IT webinar on March 18, from 3 to 4 P.M. Eastern, titled "12 Questions Nonprofits Should Ask To Evaluate a Managed Services Provider or MSP." That will be presented by Steve Longenecker who's the Director of IT at Community IT and Johan Hammerstrom who's the President and CEO and they'll be holding an in-depth discussion on avoiding common pitfalls and getting the right level of service for your nonprofit.
My name is Peter Mirus and I'm your presenter for this webinar. A little bit about my background, I have 20 years of experience serving all manner of nonprofit organizations, ranging in size from small and local to enterprise and global organizations, and across a wide variety of industry categories and mission orientations.
Over the past eight years, or seven years or so, I've worked exclusively with nonprofits. And in total, I've worked with 100 clients in both the nonprofit, government and for-profit spaces. And I have three primary areas of expertise: marketing, constituent relationship management, and information strategy, which we're going to be talking a good deal about today in the context of putting together your Technology Roadmap.
(2:49) Both Community IT Innovators and Build Consulting work exclusively with nonprofit organizations to help them make information technology and information systems decisions that support their mission. And we have a collaborative approach that empowers our clients to make informed choices for their organizations. These are the various ways that Build leads in the social good sector. In other words, the services that we provide and all of our services are designed to help clients transform themselves to better serve constituents of all types including funders, donors, program beneficiaries, staff, volunteers, board and committee members, and the general public. And so essentially, in order to start doing this, we've performed assessment and roadmaps projects for literally hundreds of nonprofit organizations, some of them as broad as the entire technology landscape for large international organizations, and some more focused on specific areas of need, like CRM.
(3:41) So now we're going to get right into it and talk about what is the right approach charting the course for a roadmap. And the first thing I'm going to do is show you a few roadmaps that have been developed by my past clients.
(3:54) Just to give you an idea of the roadmaps and the view of the roadmaps can come in different shapes and sizes. And there are better ways to do it, but it's important that whatever approach is taken to visualize the Roadmap and hold it in your mind's eye work for your organization and how it's used to doing things.
This is what I would call a functional priorities view of a Technology Roadmap, where it takes a look at the major functional priorities for the organization in dark blue there, CRM document management, professional services automation, and then lines up priorities above that for implementation in a sequenced plan. So the tier one in dark green are the highest priorities for the organization will be done first. Tier two in light green are the second tier of priorities for the organization will be done second, and then tier three are the blue or vivid blue at the top that come third. I would not view this as being a particularly elegant Technology Roadmap, and it's a little hard to understand.
(4:53) This is another view of the same thing that's a little bit more specific for the same organization then interprets in terms of years one and then years two to four together. Again, not super helpful, but at least it's something.
(5:07) This is what I would require or consider to be a more sophisticated and more easy to understand view of a Technology Roadmap where it breaks down by quarter and quarter within year, how an organization was going to pursue various initiatives, color-coded to the different functional areas of the business.
This is a nice visual look at all of the things that need to be done in what sequence over what period of time and what general categories they fit in. It also acknowledges that there are certain organizational strategic planning efforts that need to take place in concert with some of the technology related initiatives. And it acknowledges that all of the technology related initiatives are intrinsically business initiatives and cannot be viewed as separate from business process or data governance or the general operations of the organization.
Sometimes nonprofit organizations put IT in a silo and really limit its ability to have business dialogues with other areas of  organization. That was not the case for this client.  They were really into dovetailing their technology strategy into their organizational strategy. And you can see they've done that here. They understood that before they really could get into implementation of a CRM system, they would really need to spend a lot of time on deciding what their  brand strategy was going to be what their marketing strategy and product development strategy were going to be. So this is a much better look at a nonprofit Technology Roadmap visual.
(6:40) And this is another one that was developed by a client that also took the same understanding. They understood that they would have to build foundational capacity in order to appropriately leverage their technology. So they took a look at it from the ground up, starting with governance and leadership at the bottom, and then building on top of that strong foundation with basic infrastructure and productivity and then building on that with sort of MVP or minimum viable product approaches and the orange there for constituent relationship management, financial operations management system and learning and knowledge management. And then they would be able to extend those platform investments in those areas by adding specific applications related to marketing and communications, advocacy, consolidated technical assistance, activity management, and online constituent interaction, perhaps in an online community like Personify communities or Salesforce communities.
And what ultimately they would get out of this in terms of their business objectives are painted along the sides and across the top: increasing access to tools and information from all locations, a comprehensive view of relationships and improved program evaluation capabilities. So this is a building from the ground up playing a strong foundation approaching in tiers and viewing it through the lens of capacity.
And this also is an excellent way to take a look at a roadmap in terms of what needs to be done and in what sequence and what will be accomplished accordingly. It doesn't give you a more specific breakdown of projects over a period of time. So they would need to look at that through a different lens.
(8:17) Now, all of these are valid ways to look at what an information technology or technology or Information Systems landscape or roadmap should look like.
I'm going to present to you our preferred approach near the end of this discussion after I've taken some time to really underscore for you the different areas that your organization must consider in order to build a Comprehensive Technology Roadmap that is really capable of allowing people to deliver on what that roadmap outlines as objectives.
(8:52) The key message that Build Consulting starts with when it thinks about technology roadmaps or any technology change initiative is this general thesis and we know that tomorrow's best nonprofits will think about technology in a very highly integrated way with their business and a lot of organizations know that intuitively, but they don't understand in a profound sense what that means in terms of their day to day, week to week, month to month operations.
And we also acknowledge that over 50% of nonprofit technology projects fail. And what I'm going to be giving you today is the ingredients to put into your Technology Roadmap to make sure that the technology moves forward with the organization, that the two move forward in concert instead of just bolting on new technology that ultimately fails to deliver on its intended objectives.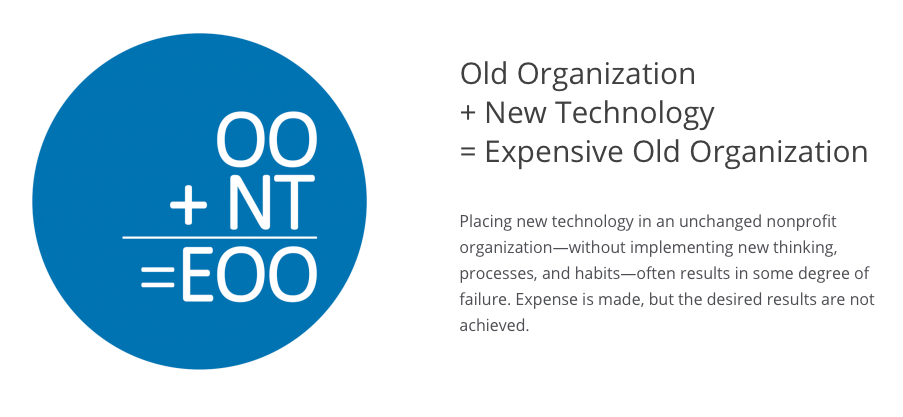 (9:45) Transformation is critical to your success. This equation OO, plus NT equals EOO stands for Old Organization plus New Technology equals Expensive Old Organization. It's an inflection point or a point of epiphany for some of our clients when they see this, and we get a lot of rueful chuckles when we present this slide, because many organizations understand having been through failed implementations before, are not getting the intended business benefit out of the software that they implemented. And they ended up with new technology, but in an expensive old organization that was working with that new technology. And Builds mission is really focused on transformation as you can see in our tagline:  Build, transforming nonprofits.
(10:27) So the way that Build likes to look at the way the different areas that need to be taken into consideration for a good Technology Roadmap is by viewing the whole organization through the lens of our Information Strategy Framework. Today, most organizations can find technology to suit their needs. There's a wide and diverse landscape of software and devices capable of meeting most nonprofit needs or at least there are platforms available on which those softwares can be built effectively.
But the challenges today are largely cultural, orienting around leadership and governance, operational capacity, business process and data modeling, and then technology. Yes, there are technological problems to be addressed, but as one study of the industry reported: 48.5% of executives said that the problem with their technology was related to people in the organization while 32% blame processes, and only 19.1% pointed the finger at technology.
(11:33) So to breakdown each of those areas of the information strategy a little bit more we start with leadership. When good leadership is engaged in setting the tone for technology initiatives, they typically go much more smoothly. Even seemingly small information management or technology initiatives benefit when a leader participates.
Now, I'll give you one example: over 18 months of working on a major Information Technology initiative progress and success directly related to the leadership's commitment to participating and making key decisions at critical junctures was really important.
The leadership's energy and attention waned at points during the project and the project got bogged down because leadership was setting the tone and when they lost interest, then the organization lost interest. So it's important that leadership be engaged consistently and in meaningful and visible ways, of course in a particularly major technology project, like adopting a new CRM platform, for many organizations who will fit into that category. We're going to talk a little bit more about each of these areas in detail in a moment. I'm just going to run through them at eye level now.
When we think about operations, we think largely about people, project management and change management within the context of project management, and communications.
It's important to get the right people on the bus,
be sure to have good project planning and management, particularly time management, and
be able to communicate effectively with audiences that need to be involved in the process of improving your organization and improving your technology.
And then defining efficient processes and effective processes, means more than just coming up with the best way to do something. It means developing sufficient documentation of the process and above all, executing the processes consistently. It's one thing to agree to a standard process while in the conference room and another to actually put it into practice at your desk.
And then data must be consistently collected, well organized, properly maintained and used.
Organizations must do all of these things well in order to have an effective Information Management environment.
And finally, we get to technology which is intentionally last. It can be viewed as the simple answer to adjust problems with leadership, operations, processes and data. But for the most part, technology is supportive of how organizations behave, or can be a change accelerator. But new technology will for the most part, not make up what is lacking in other areas.
(14:22) So, here we have the color coding of the information strategy framework elements. And to the left, we have leadership operations and processes in blue and to the right data and technology in yellow. And the reason for this is that the areas to the left in blue are really more organizationally focused. There are things that the organization really has to get it right upstream of data and technology to make data and technology effective.
Data and technology are most often thought of as the purview of IT, or the technology team. But it's important as you talk about integrating organizational strategy and technology strategy and a roadmap that you bring these different areas to the table and realize the profound impact of leadership, operations and good process development on the effectiveness of data and technology. It's all very interrelated.
(15:15) So I'm going to talk about some of the hidden keys to success with your Technology Roadmap by talking about 9 different keys to success: 2 regarding leadership, then 6 related to operations and concluding with an extremely critical key to success that encompasses processes data and technology.
And then I'm going to show you some examples of how that manifests itself in the roadmap model that we prefer for our clients. And we should have time for questions at the end.
The areas that I'm going to be focusing on in just a moment here are as I said before, areas that are often neglected for consideration by non-profit organizations when thinking about their Technology Roadmap, and the capacities that they need to develop in order to be successful.
They are important to the success of individual projects as research has shown in various areas. But they are also general things that need to be taken into consideration when conceiving of your multi-year Technology Roadmap.
(16:15) So I mentioned before that it's highly important in the area of leadership to have actively engaged executive sponsors. This is something that needs to be planned for as part of the roadmap and what it would take to implement the roadmap successfully for your organization. Executive sponsorship provides visible participation and regular communication. They should assist with a prioritization of resources towards technology efforts, providing guidance and support and assuring accountability, particularly for major projects that require extensive reallocation of staff time to complete successfully.  Actively engaged executive sponsors may by itself be the difference between a successful project or initiative and not and we frequently see non-profit orgs start with strong executive interaction in the project, then that attention wanes over time.
And as I mentioned before, quickly, there is a strong correlation between losing executive focused on a project and project performance setbacks. The same thing could be said to keeping the Technology Roadmap in sight and as a point of reference when it comes to planning new initiatives. If you'd like to read more on how executives can best support technology projects, you can see the extensive posts on our blog written by one of our partners, David Deal, who's a lead strategist at Build as well as an experienced CEO, non-profit CIO, and non-profit board member. And this post could be an effective tool for getting the right buy-in and engagement from senior executives at your organization who are more likely to absorb this message from someone that has been in that level within an organization than they are to absorb the same message from a director, manager or staff member at a lower organizational level.
(17:55) Some people asked in advance of this presentation during the registration process, "What does it look like to engage executives in projects?" This on screen here is an example of an executive steering committee definition. In this case for a change management tasks force for a major technology project, and it outlined the roles and responsibilities and estimated level of effort for the major members of the executive steering committee. In this case, it was a tight three person Organizing Committee. But sometimes these committees can be as large as four to five people depending on the executive structure of the organization. Usually, once they get, I would say, to more than six people, they lose their effectiveness. Sometimes the executive steering committee for a major Technology Roadmap, or a data governance committee or things of that nature can be the same as the leadership team at an organization and sometimes it's a subset of that team.
(18:57) It's important that leadership also be engaged in identifying business benefits and performance measures.
Because ultimately, the success of technology initiatives is determined by whether or not the business benefit was achieved. It should be done as a collaborative effort, including all the necessary stakeholders. And it should agree what purposeful actions during a systems implementation when the sure benefits are realized and sustained once that project ends. And it's important to develop clear structures and models for performance measurement.
A lot of people asked, have asked me before and there was posed as a question before this webinar: "What's the way to connect the business initiatives or technology initiatives to return on investment?" and ultimately that is achieved through qualifying or if possible, quantifying the business benefit that you want to be achieved, and then realistically, estimate the likelihood that the technology initiative is going to deliver that return.
An example of the business benefit would be to achieve a 10% increase in sustaining members. Technology can help support this.  Particularly, it  predicts which donors will become sustainers and help automate the outreach campaign process. But technology alone will not address the issue. Purposeful actions during the implementation might include effective training of staff on how to use the features and documenting new business processes to make sure they can be sustainably performed over time, including survival, surviving potential employee turnover.
(20:29) What you see on screen here is an overview of how we would approach dividing up ideas for performance measurement into three different categories. We were implementing a Salesforce communities-based tool called Engage.
This is what you branded it for the client, not a product name that's on the market. And we wanted to consider it
as a product
as a service, and
as a business accelerator,
a lot of people when they think about performance measures, they think about what's the net impact going to be to the business and that is very important. And but it's also important in the context of implementing to determine how people are engaging with the software as a product and then as a service. And every technology system requires some sort of training, some sort of support, and that has to be continuous, not just one time in most cases. So we think about that collection of resources as a service that's delivered to the organization along with a product.
We could spend a lot of time on performance measurement today, and I think I will probably plan on doing a future webinar on that subject, because it is a difficult proposition for organizations to figure out the true cost of technology adoption, or improvements alongside of the intended business benefit and really quantifying and qualifying what that means. So we'll have to dig into that on another occasion.
(22:03) In the area of operations, it's important to have great project planning and direction. And you would think that this would be a given but in fact, it's not. And you have to plan for it appropriately at your organization when you're thinking about what projects are achievable within your roadmap. Experience is key, it's important to think about your projects and your roadmap in general through the idea that you'll need someone to lead those initiatives that has already successfully performed the similar projects and similar situations for either your organization or other organizations. It's also important to think about how that individual or individuals are going to be empowered. It's very difficult for being an un-empowered, projects director or manager, your stakeholders can feel free to ignore or disregard.
So that's really critical to seeing success with a roadmap is: who's going to be doing that project, planning and direction and what leadership are they going to be empowered to provide?
One of the primary challenges of successful project planning and direction that organizations is time management, it's their employee time is often not budgeted, they're trapped for other projects, resulting in the behavior that effectively all staff time is considered infinitely flexible. And as a consequence of this staff are often given new responsibilities associated with a technology project and managers don't take anything else off their staff's plate so they have time available to commit to the effort. And this results in many projects underperforming or failing outright, as well as morale problems and increased turnover during lengthy technology projects and the reason why I said that it needs to be done effectively across the organization and a range of technology and on technology projects, is because if you have a technology leader that's planning time for their initiative in terms of what it'll take for staff to commit to the project, but nobody else is planning time for those same staff members, then it's impossible to tell, in measure, effectively whether those individuals have enough total time relative to their tasks and commitments to participate consistently in what the project demands.
(24:14) This is an excerpt from a project charter for project leader and defining what success looks like at a very high level. And you can see that it's important for all team members to have a single point of truth and for the status of the project, and you might apply this to an entire Technology Roadmap or portfolio of technology projects on a roadmap.
Where can people go to get the information that they need to know where things stand relative to the milestones and tasks? And it needs to have some way – the project leader needs to have some way to let executives and managers have an accurate view of project status and to be able to get their questions answered. And then to ensure that goals and deadlines are being set. It takes an empowered person, whether that is the IT director or a CIO or somebody else in the organization that's focused on project management or project leadership for these kinds of initiatives to be given the empowerment and the authority to be able to leverage these things effectively, and make sure that there's accountability particularly for large complex initiatives.
(25:30) Somebody asked when they are registering: how to estimate staffing and time commitments. And I already touched on this and this is a visual example from a longer list of specific roles and the projected staffing that will be required for a project.
And the way I like to look at it is:
What roles are going to be required for each project in the roadmap?
What is the staffing likely going to be for those projects in terms of individual assignments to the role, whether it's one person per roll or if it's a shared responsibility?
What key responsibilities are necessary for that person to perform?
What does success look like for their role?
And then on a weekly basis, what is their level of effort going to be?
Some organizations try to really get granular with the tasks that they're defining in their roadmap and estimate the time on a per-task basis and that's difficult to look at and also difficult to estimate on that per-task basis, especially for initiatives that are only defined at a high level off the top. So you just have to get good and experienced at really taking a look at the key responsibilities, and what success looks like and what it's realistically going to sit at from a weekly or monthly basis for that person's time commitments, and then reevaluate as you move through the initiatives to make sure that you're still keeping consistent or the realities on the ground are matching the original estimates.
And then if you did this on a per project basis as was the case here, you'd have to aggregate it over the course of a number of different projects if there were simultaneous projects going on, to see what the total time commitments of staff would be relative to the effort.
(27:13) Now still, under the heading of operations and information strategy, I'd like to talk a little bit about change management. And as I said earlier in the area about transformation, technology change always required some sort of behavioral change. I always say that there's no such thing as a technology change project that isn't also an organizational change project. And the practice of change management helps define the change that is coming, assesses its impact on the various roles within the organization and then helps to prepare those roles for the impact and Build Consulting has a changed impact analysis how-to tool and template in the Learning section of our website.
Effective change management incorporates leadership, alignment, communications, training and support. And these are things that organizations often don't take into consideration when they're planning their Technology Roadmap or estimating the financial or human resource time commitments that it will take. And as a result, they try to end up shoehorning too many projects into too tight timeframes.
(28:20) This is a visual of the change management framework that I referenced. It really is a discipline that takes some practice to get into inside of your organization, but once you do it and run it across any project of substance, it's really hard to deny its value. I would say that in general Build probably spends about 50% of its time on what could be defined as change management for clients, really helping them integrate change management approaches from the start in their technology roadmaps and then into the projects on a per project basis.
(28:57) And this is an example of what a change impact analysis looks like. It really takes into consideration the key process areas and processes that are likely to change with the implementation of a new software and then what the impact of that change is on the role that's impacted- in this case, volunteers and chapter managers inside of an organization predominantly – the briefest possible description of the impact and what its level of impact is going to be.
And this is a constant point of reference when deciding where to focus resources in terms of training and also helps to keep the organization that's more focused on business process in regards to supporting that process, training on that process and supporting that process, in lockstep with whomever is focused more on the product development for a technology solution.
So in this case, this was built on… this product for this client was built on Salesforce communities. So there was a lot of capability that was to find out of the box, and available, but Salesforce community really provides building blocks on which the product was created. And as more organizations take a platform based approach to meeting their technology needs, building on top of platforms such as Salesforce or Microsoft Dynamics, or NetSuite, it's really important that as they're developing out there are requirements and embedding those requirements as processes and workflows and actual software, they take care to indicate where the changes are going to take place.
Sometimes this changes our whole scale, if you're moving from one entirely different product to another, or to what extent the concepts are transferable.  Those impacts the degree of change and the plans need to be made accordingly.
(30:45) Another area that organizations often neglect is the thing called risk assessment and nobody really wants to think about risk assessment because it means envisioning the possible points of failure within a project, but it's important to realize that risk assessment, which is particularly necessary for larger complex projects, is done for the purpose of mitigating a particular risk in advance. A good risk assessment assesses all of the potential challenges or risks for a project, including each one's source, probability of occurring and the potential impact on project costs, schedule or performance.
It also introduces a mitigation and response plan for each risk, as I just said, and a risk assessment is not a one and done proposition.  They must be revisited and updated to track the status of existing risks and add any new risks as they entered the picture. So it's important that when you're building your Technology Roadmap, you think about the different things that could go wrong at different junctures, and evaluate how to mitigate those or address those as they arise in advance or as they arise in the course of implementing the roadmap. One example of a typical risk in nonprofit organizations and indeed at all organizations is a lack of stakeholder availability to participate based on conflicting priorities or events.
Depending on the degree this risk could have a high impact on project cost, schedule and performance. And the reason why I say this is a typical risk is because referencing back to my earlier point about time management, nonprofits frequently do not manage time well, or estimate the time that it will take to do things and as a result, people are pulled in too many different directions and it jeopardizes the success of the project. A good example of how to mitigate such a risk, as I said earlier, would be to take the steps to make sure team members are free from responsibilities that conflict with the progress on the project or projects.
(32:39) So somebody asked in registering for the webinar, "What is the way to connect findings from an assessment with a roadmap?" Well, this is an example of a finding that speaks to assessing an impact, as we talked about and change management and the impact also is related to risk assessment. So this is a potential risk for a client that's in the operations area, that indicates that there are, there's not enough analysis of capacity and change management readiness. And so this is a fine example of a finding, from an assessment.
Now in between the finding and the actual execution of the project, you would want to make sure that you have the impact analysis and risk assessment in your roadmap for the projects that are going to be taken. You can do that as a high level for the roadmap as a whole, but you also need to do it on an individual project, or at least a track basis, as you'll see in a few moments when I talk about the getting back to the preferred roadmap model.
(33:54) This is a simple example of a risk analysis and a risk register and our preferred project management tool.
And it basically gives you an opportunity to line out the different risks associated with a project or a portfolio of projects, indicate what your mitigation or response plan is, and talk about as a group and really assign probabilities, the degree of impact and that the impact areas.
And I know this seems overwhelming for organizations that haven't done it before, but it's really the kind of thing where if you sit down for half an hour and really talk about, hey, what could go wrong with this set of projects or this particular project? You can get a couple of things out real quick, sort of get a good sense of or a feel for how to do it and then proceed from there. It's never going to be perfect, but it's important to work at it and make sure that you take it into consideration, because if you don't think ahead to what the roadblocks could potentially be, you might get caught unawares by them and then have that impact the flow or the success of a project and then that might in turn throw off other projects on your roadmap.
(35:01) Studies have shown that organizations that take an open and collaborative approach focusing on incremental design and implementation processes show greater potential for success. So it's important that you plan for the necessary level of collaboration and an iterative approach to delivering technology to meet business needs when you're putting your roadmap together. This is most commonly referred to as an agile process. And this style helps to keep all of the key stakeholders engaged throughout all of the many critical decisions and reviews and approval processes in a technology project or range of technology projects and a roadmap from the start of requirements discovery all the way through the post implementation phases for a new technology. It also helps break down projects complexities into bite sized chunks for people to understand.
Now one warning is appropriate here. It is important that when you're selecting a vendor to help implement a software system, and that vendor uses an agile approach that the vendor has the ability to be flexible when working with an organization that has never or never successfully been through a true agile process. Introducing an agile approach to an organization unused to working in this style can be a major culture clash that can cause projects to get bogged down or collapse entirely. For agile projects, for example, it is very important that stakeholders are frequently available to participate in design reviews and user testings, sometimes on a weekly basis. This also means committing the necessary time to make business decisions within accelerated timeframes compared to what the organization is accustomed to. So applying agile principles in a way that will truly work for each organization is very important. And it's often necessary that if your organization hasn't done agile before, or whatever it would be called for your organization this collaborative iterative approach that it takes a phased in approach to implementing it, and has mentors that understand that the organization is trying to move from point A to point B and so, so to speak, take an agile approach to implementing agile.
(37:08) This is another example of a process, assessment finding and it highlights that staff are engaged in the process of creating a Technology Roadmap and invested in its success, but that a lack of true collaboration has inhibited the creation of efficient systems and processes, and indicates just how the lack of collaborative approaches cost the organization.
You often hear in organizations, well, we're really siloed or departments are siloed or programs are siloed. And everybody thinks they're unique and everybody has a definite way of how they should do things. And, you know, a good example in this that we often run across is conflicts between development teams and accounting teams in terms of donor gift management. And it's really breaking down those silos gets a lot of lip service and taking a collaborative approach across departments or programs gets a lot of lip service, but it is hard to do effectively and a lot of organizations lack any comprehensive idea of how to go about doing that.
And sometimes building a good Technology Roadmap that envisions committees working together for data management, across teams, and across departments is a good way to help your organization start breaking down those silos and really start working together in a collaborative approach to meet the best benefit for the organization and better mission impact.
(38:42) We're going to pick up the pace a little bit here. I know this is a lot of information to absorb. Just want to spend a few moments on supportive tools, projects and technology roadmaps that have supportive tools underneath them for managing these projects are often more successful than projects that don't.
We prefer Teamwork Projects to tools like Basecamp, Asana or Microsoft Project. But the key is to have a functional space that is universally adopted by all the key project participants or everybody that's tracking the roadmap in a way that folks can be on the same page in regards to milestones, tasks, agendas, notes, files, risks, links and critical conversations, any information that the project requires to be successful.
The best way to make sure a tool like this remains in active use throughout the entire project is to use the information in the system as a live point of reference within team meetings, and to drive Performance Reporting to stakeholders.
(39:46) This is just a quick snapshot of what the dashboard looks like for our project management tool that we use. You can see the different areas that it supports across the top. It's Teamwork projects.  We find it to be a good mix between capabilities of a tool like Basecamp and a more full fledged project management tool and it has a lot of flexibility and is generally an intuitive tool for users to get into.  It has a variety of different ways that you can look at your projects. But one of them is to take a look at it in a dynamic sheet view (40:20) and this is an example of how one wave would be broken down in the project so that everybody can see.  You could toggle this view to see assignments as well. So, it really is important that even though it's laborious and time intensive to make sure that your projects are outlined with a necessary degree of specificity in a supportive project environment, digital environment.
(40:48) I just want to make a quick note that a lot of times implementing a Technology Roadmap calls staff on the organization to participate in the areas or to lead areas or do things that they have not done before without giving them professional skills development to help them mature into those roles. So it's important to do that and it's important to do it on an ongoing basis.
One way that you can do that is by visiting, Build Consulting.com/learning and take advantage of the resources that we have there. And it's also important that you help connect your staff that are being pushed into new roles to other resources from business or technology services or organizations that can help meet their needs.
(41:30) Requirements definition or a lack of appropriate requirements definition is probably the single most thing that impedes the successful implementation of business software or systems. Business requirements definition has a high impact on process and data and technology.
We don't have the time to get into a great degree of detail today. But it's important to understand that business requirements should be carefully documented and prioritized. Because if your organization has a poor understanding of its current business processes and data, or processes are performing inconsistently, or data quality has been poorly managed thorough business requirements can be very difficult to develop.
And poor business requirements, as I said, are one of the leading contributors to projects running over budget and over schedule, and are a leading cause of the wrong system being selected and implemented.
So it's important to build your Technology Roadmap in a way that allows for an initial requirements definition phase that your organization engages in for its major projects, to assess the needs of the organization and really be able to plan for that time commitment at the front end of engaging with system vendors, because projects can really get bogged down even when a vendor for a system is conducting a design phase up front, if you already don't know what your business processes and data needs are.
So one of the things that Build, does in assessments and at the front end of system selection processes is really help clients go through this requirements definition endeavor and as a result, our clients are much better prepared to engage with vendors to get realistic project scoping from vendors, and to have successful implementations. And because we do this, we often hear from vendors that the RFIs that we help our clients put together to send to vendors are more well written and more articulate about the business needs of the organization than any that they've ever seen before. And that really sets up clients well for success. And we do that in a way that's deeply collaborative with our clients.
(43:44) I just wanted to give you a couple of visuals of what it means to produce business requirements document deliverables.
This is sometimes called a constituent journey map where it walks you at a high level, through the different phases of walking with a constituent of a certain type through a journey, all the way from identifying the constituent through marketing and engagement efforts all the way to measuring impact.
(44:17) This is a good visual example of a business process map or analysis where you're stepping through more detailed visual workflow and calling out some key reference documents. It's important to do this in two ways.
One is to do it for the current state, what it's called the current state to really help everyone get on the same page in terms of what is currently taking place within the organization today,
and then also in a future state mode where you're evaluating where the organization wants to go. And one of the ways that helps is that you have an opportunity to do realistic change assessment. What's it going to take to move people and technology from point A to point B.  How big is the degree of change and what new ways are the business requirements going to stress your existing systems or result in the selection of a new system?
(45:11) It's important to do data mapping of your data, at least at a high level to really understand the data that's critical for your organization to maintain. This is a visual of that using something that's called crow's foot notation to help understand the differences and the relationships between the different major data objects for an affordable housing project management organization, and doing affordable housing loan management. But this was also accompanied by a narrative and you know, we talked earlier about taking a collaborative and iterative approach and I think that it's important to note that these were not just implemented by some analysts going off into a closet and doing a bunch of interviews and then going off into a closet. There was a group of stakeholders that were working together reviewing this in iterative steps with the analyst and really, everybody understood this and was on the same page.
So even though this data object relationship model looks a little abstruse, everybody that was engaged in the effort from any department in the organization could tell you what this meant.
(46:24) And this is an example of the detailed data inventory that would accompany a data model like this to really spell out in very specific terms, the different kinds of pieces of data the organization need to manage in those models and how that would impact the organization and if they were better related to each other.
(46:42) And finally, this is a map of technology systems integration overview to make sure that everybody understands the current way that the different pieces of technology within the organization relate to each other and exchange information at a very high level.
So this is all important work to do in the course of preparing for major technology initiatives and at a lighter scale for smaller technology initiatives. And it needs to all be taken into consideration when you're planning your roadmap to make sure that you have realistic time frames and scopes of work for the projects.
So I was focused primarily for the last 30 minutes or so on all of these different ingredients that you need to think about when you're preparing your Technology Roadmap. So let's talk quickly about how that ties up together and then if you have any questions, I'll be happy to answer them.
(47:47) So, what you really want to do for your roadmap is lay out a vision of the future. This is an example for a client of how we laid out the vision for the future. We wanted to help staff treat member and funder relationships as organizational assets with the goal of driving new and expanded relationships. And there were separate performance measures associated with us that aren't on the slide. But this just sets it on an executive summary level.
What exactly are we trying to get to in terms of the vision for the future when we get to the end of this three-year roadmap? (48:16) What's the case for change? Why is it necessary for the organization to embrace the change to arrive at that future vision?
You know, what are the big challenges and opportunities that present themselves and at an executive summary level.
(48:29) And then we want to define that vision for improvement based on key organizational priorities and risks. So we find that it's important to organize into major initiatives or tracks in a roadmap, and then further break down those tracks by individual projects. So this is a case, this was an organization that's primary area of need was to focus on greater financial, better facility in the financial management of its programs, as related to grants as related to funding allocation, financial planning and analysis and as related to Salesforce, which was the main focus of the previous phase of the roadmap.
So we identified seven different tracks and it's important to note that we wanted to establish some quick wins for the organization that would help it improve some processes in ways that were quickly approachable while waiting for larger change to take place and also to make sure that governance and accountability was established up front.
(49:30) And then this is an example of the visual as to how you would take those major tracks or initiatives and break it down into individual projects. And what I want you to focus on is the brick red track 2.0 establish governance and accountability. First thing was leadership alignment, change planning, defining a governance structure has the second step and then launching that committee, training and communicating about it and with this one of the main things that we do for clients to make sure that they're well set up to implement technology roadmaps effectively, is to
make sure that the leadership is engaged,
that there's alignment
that we understand what's necessary to implement the roadmap,
that it's connected to that the governance structure is committed, created, so maybe there's a leadership team, at the executive level, a data governance team that stretches across departments, and is really talking about the end to end processes of an organization and what's necessary from a data and technology perspective
and then launching that committee training, communicating and really making it operational.
And then to break it down to the third level of detail, what we want to do is frame that track for the client in a narrative.
And then for each project, we want to outline the key activities, the expected outcomes, the expected cost drivers, broad estimation of staff involvement and any assumptions or notes on which those things were based which we don't have any of here.
(50:56) But you can see that it's three projects, three sets of data for those projects and what this gives you is a high level aggregate executive vision or view,  a view of that same vision that breaks it down into specific projects. And each project is planned and resources are allocated for it and people have very specific projects with specific outcomes to focus on and then making sure that everybody really understands what the most important things are related to the success of that project. What do we want to do and what do we expect the outcomes to be?
Now, as I said before, there are a lot of different ways that roadmaps can be done and presented to clients and it's important to do sort of massage it into a way that really works and is relatable for your organization, but we find that this approach to defining a roadmap is the best for the average client, and then we vary it according to their specific needs.
(52:12) And you can see peppered throughout this roadmap, the various other aspects of the point of emphasis that I was making for the information strategy before. Things like change management, factor heavily into leadership alignment and change planning. Things like policy development are governance focused, training is a change management effort that's operationally focused building the capacity for that. Requirements development, configuration and testing of integrations.
So, even if it's not explicitly called out in here, every aspect of that information strategy will influence each one of these tracks and each project within that track.
(52:59) We have a few minutes for questions. I'm sorry, I didn't leave as much time as I thought. But I hope this has been an effective presentation for you today.  It was a lot of information to consume in a short period of time and I'm happy to follow up with anybody that has questions that you'd like to e-mail me after the fact, you can see my e-mail address on screen (peter.mirus at buildconsulting.com) Everybody that registered for the Webinar will get an e-mail from me and as well as from Community IT with the links to the recordings, but again, if you didn't get your question answered in the course of this presentation, or in the last few minutes that we have remaining here, or you have any ideas that you want to kick around, feel free to reach out, I will be happy to engage with you. And with that, we have time for questions if there are any.
So I'll just pause and see if there are any questions and you can send them as a reminder using the questions feature in the GoToWebinar tool.
(54:02) So one of the questions is "How do you get leadership to stop overcommitting staff to existing and ever-growing new projects?"  I think that is a product of leadership, professional development in some cases. So they really understand how projects need to be managed for success and also getting the time management issue under control. And that's something that has to be done as an organization systemic thing, because doing it for specifically technology projects only, for staff that have commitments in multiple areas, is of limited effectiveness.
(54:52) Another question is "How do you build in the need for additional staff to implement a project in a certain time frame?  That's really making the case based on a more advanced breakdown of roles and responsibilities associated with a project and estimated time commitments, and really position for leadership, who should be filling those roles or who's the best person to be filling those roles, and then really posing the question to their managers of what their time commitments are and their ability to participate and then you may need to bring in additional for larger projects that place a lot of stress on staff, you might need to bring in some additional support to help make the project executable. So for example, if you're improving your AP process automation tool or implementing one for the first time, and that's going to draw down on some time for project participation from AP staff, then you might want to bring in a temp or somebody that can supplement the capacity of the AP team so that they can keep processing their day to day responsibilities as a team while still participating in the project.
(55:57) Somebody asked earlier "What project management tool is that?"  I think I mentioned, but it's called Teamwork projects. That was also the project management software that was used for the risk register. Somebody was asking about that as well.
(56:27) "How do you see people bringing this in when things are already overcapacity?"
That's a good question. It is something that you can leverage outside firms such as Build Consulting to do for you. And it has a broad business emphasis in terms of project planning. So one of the things that we do with organizations oftentimes is when we come in to do a technology focused initiative we'll give them a set of tools that they can use for project planning and change management planning in the future and help them build their capacity inside of that organization. So we really emphasize trying to make sure that not just the insights that we provide are durable and the roadmaps that we provide but also that we help the organization build their skills and capacity to implement the solutions that we're recommending. So thanks for that question.
(57:37) "What kind of project lends itself to a smaller scale proof of concept to use it as an opportunity to demonstrate the return on investment in planning tech implementations?"
That's a great question. It really depends on the unique needs of the organization. One way is, there are major scale changes like major platforms switches like switching from Dynamics 365 to Salesforce or something, or from Raiser's Edge to Salesforce or something of that nature.  That is a big lift that you might not want to try to implement new processes or ways of doing things for. A smaller project might be to implement a new HR performance management tool, something that has a limited scope of features, but it touches a lot of different people. Another example would be to if you had a good accounting product, but you needed a better time and expense system, going through the process of selecting, planning for, and implementing a time and expense system might be a good gateway product. We've also, you know, implemented some projects like SharePoint implementation or Microsoft Teams implementation for a small team as a stake pilot group before expanding it out to an organization and teaching the processes as we go.
So I hope that is helpful to answer your questions. I'm just scrolling through to see if there are any additional questions before we wrap things up. I think that's it.
So, thank you very much everybody for participating today. It was a real privilege to be with you talking to you about this subject. I hope you got a lot out of it. And as I said earlier, the recording will be available in both video on YouTube and also as an mp3 so you can revisit it on your commute.
There were some visuals in here but largely speaking, our webinar recordings are consumable, the audio only format and we try to design them so that they can be used in that way. And then on a little bit more of a delayed basis, we do also make a transcript available for those who require it.
So, thank you again so much and have a great day.